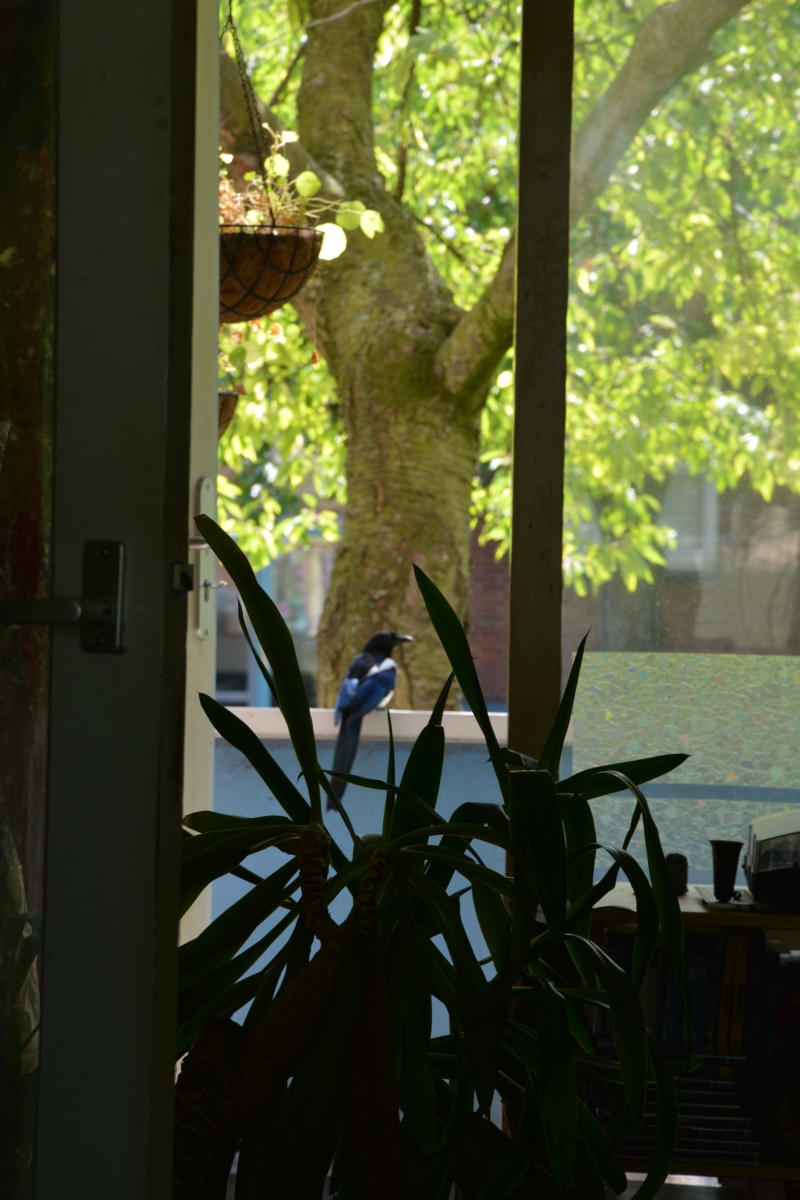 One lazy Sunday afternoon, not so long ago I were sitting at my table, when I suddenly noticed a magpie rumbling around in one of my hanging baskets on the balcony. I were wondering what she was looking for? Especially because I didn't know magpies had a taste for Monks Cress (Tropaeolum majus).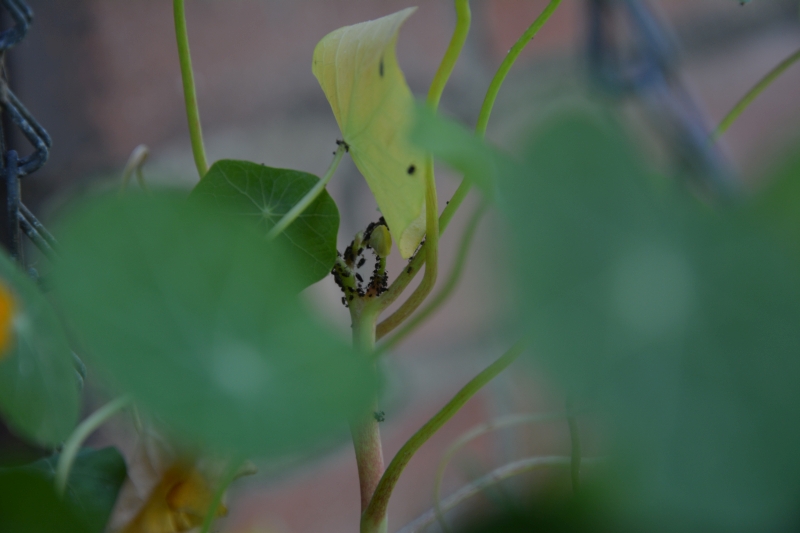 Taking a closer look I first only noticed a wealth of Black bean aphid (Aphis fabae). This is not very strange for these little creatures just love Monks Cress and as thus this plant serves as a trap crop for these creepy crawlers.
Still, the black ants had not discovered them at that moment, or there would have been a constant transport road of black ants from and too the aphids. They are great milk cows, those aphids. Well, at least to ants.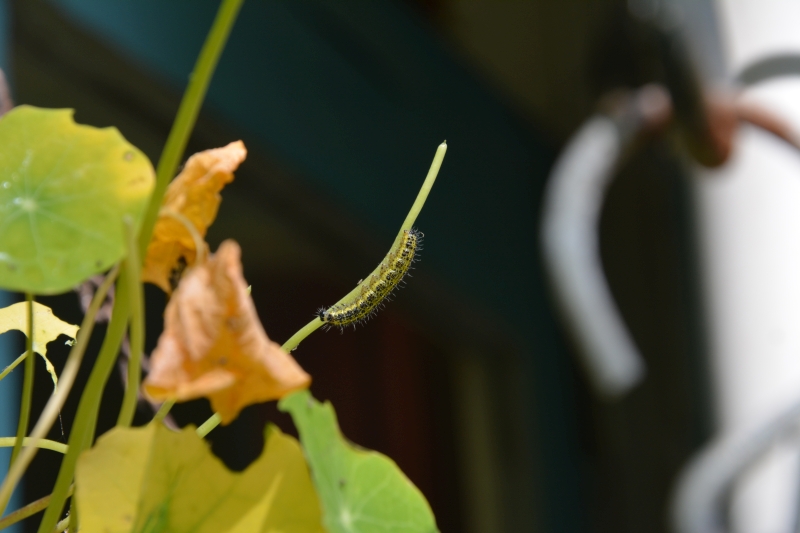 One moment later I saw why my monks cress lacked a few leaves; they were eaten by the caterpillar of the large white (Pieris brassicae). Somehow this caterpillar or butterfly in the making fancies a spicy meal; it already had munched away a few leaves.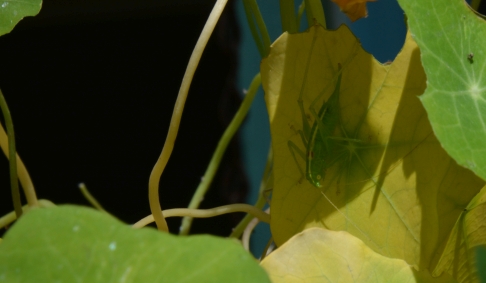 One leave further on, I spotted a small green katydid (Tettigonia cantans), who had had also a mouth full of my plant. Unlike the caterpillar he made a rather tasty impression on to me. So I guess a magpie would also like to take snap on him.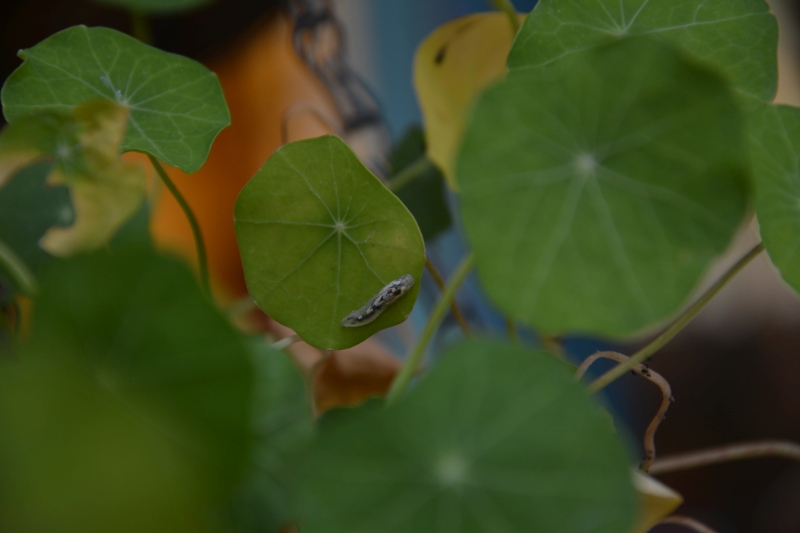 I now got the hang of turning leaves. So I rummaged a bit more through my plant with another tiny surprise; a very young great grey slug (Limax maximus). This one not only being very small, they can reach lengths of 20 cm (7 7/8"), but also still very transparent. Things were getting very crowded in my hanging basket. I were also wondering what would be left of my plant if everything was taking bites of it?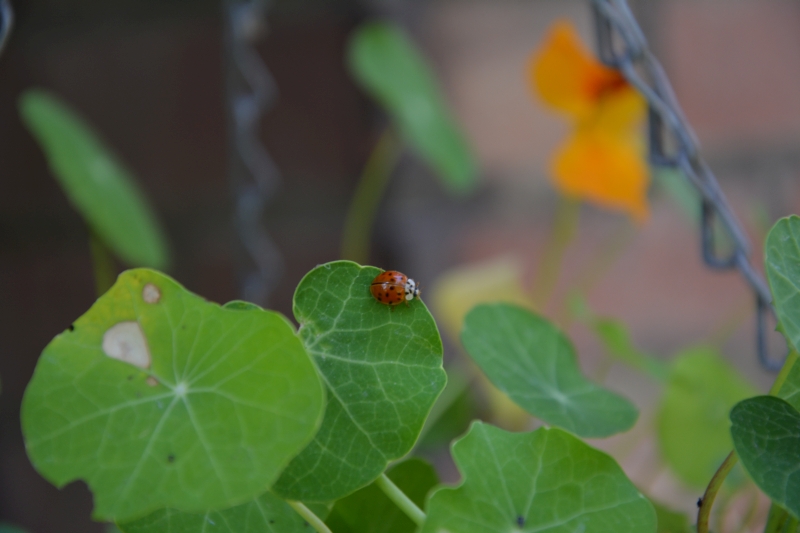 Than at once I spotted a very fierce predator; harlequin ladybird (Harmonia axyridis)had entered the scene. A second more dark variety hid itself in the shadows of the leaves. Both of them had clearly no good intentions.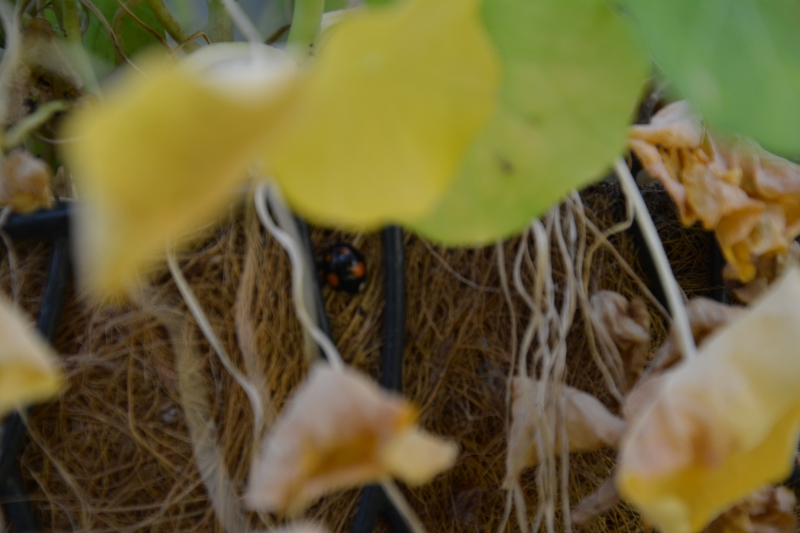 Coming back the next morning; all the aphids were gone. One of the ladybirds let out a long and ringing belch. Murderers, I thought, but then again, this is how nature works.
This all happened on the area of 0.04 square meter of a hanging basket.
Little note for visitors who are not aquainted with the dutch language: If you are interested in my art, please click on the union jack in the upper left corner, or follow this link.